Special considerations for paediatric patients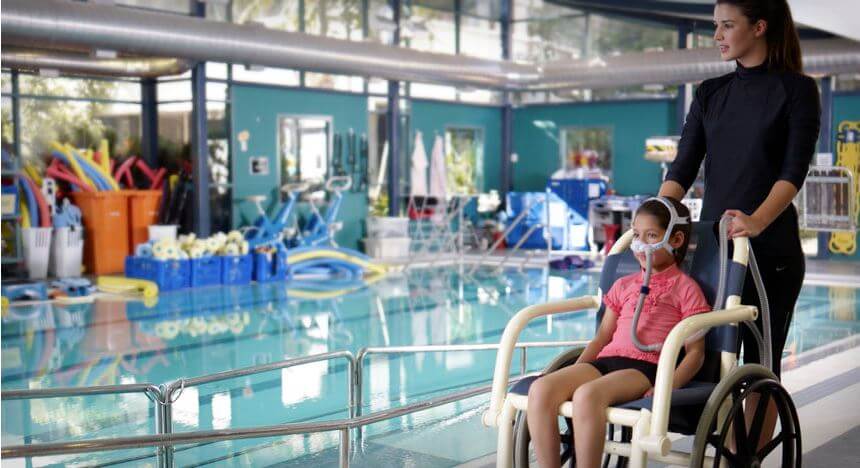 Detecting a child's tidal volume and/or respiratory effort requires sensitive algorithms and technology. ResMed has engineered respiratory support devices that offer advanced inspiratory trigger sensitivity, thereby improving synchrony and respiratory support for the child.
ResMed ventilators offer adjustable trigger sensitivities, allowing clinicians to choose a high or very high sensitivity to make triggering easier.
ClimateLine Air Oxy tubing neatly connects to the back of any ResMed device, removing the inconvenience of a separate tube connection to the mask and allowing oxygen to completely mix with the warmed, humidified air.
The Stellar™, Elisée™ and Astral™ Series of ventilators allows oxygen to be connected directly to the ventilator, reducing the likelihood of compromised triggering.
To achieve adequate minute ventilation and/or patient synchrony, some children require an elevated respiratory rate.
Stellar™ devices offer an adjustable back-up breath rate of up to 60 bpm.
Stellar also offer the Pressure Assist Control (PAC) mode, allowing clinicians to set both a back-up rate and a fixed inspiratory time.
Unintentional leaks are inevitable, especially for paediatric patients who move frequently, or who don't yet understand the need to keep the mask on.
ResMed ventilators allow clinicians to set a "tight" Ti Max for paediatric patients to ensure that each breath terminates and cycles back into expiration, even in the presence of a large leak.
NIV can be used to treat various respiratory conditions
Lumis ventilator is approved for paediatric patients in the hospital and the home.
Stellar™ series offer a comprehensive menu of alarm options, as well as integrated oximetry, making it ideal for paediatric NIV use.
In addition, both bilevels allow oxygen to be bled into the therapy. ClimateLine Oxy used with Stellar™, allows up to 30L/min of oxygen to be connected directly to the device, and also offers an FiO2 monitoring option, suitable for hospital use.
For paediatric patients, it's important to ensure that the bilevel has appropriate alarms.
Most ResMed ventilators include alarms such as power failure or device failure.
Stellar™, Elisée™ and Astral™ offer a comprehensive menu of alarm options, including an apnoea alarm.
Designed with your paediatric patients in mind.
Stellar™ ventilators allow clinicians to use the PAC mode, which ensures a specified breath rate and inspiratory time.
Alternatively, Stellar™ device (in the Lumis) allow clinicians to set the Ti Min, which will ensure a minimum inspiratory time in S and ST modes.
Paediatric patients may be prescribed an oximeter.
Stellar™ ventilators offer an integrated oximeter with alarms. The integrated oximeter improves caregiver efficiency.
It's important for families of children on NIV to participate in normal activities and excursions that promote bonding and quality of life.
Stellar™ ventilators are equipped with an internal battery for extra mobility.
The batteries facilitate continuity of therapy for the paediatric patient.
Additionally, many ResMed ventilators can accommodate the ResMed Power Station II (RPS II), which can provide from eight to sixteen hours of battery duration (based on whether one or two batteries are used). (For example, the battery has an eight-hour life if used in PAC mode with pressure settings of at EPAP 5 cm H2O, IPAP 15 cm H2O and 20 bpm — two batteries can be connected simultaneously).