Do these symptoms sound familiar?
• You have trouble staying awake through the day
• You get upset or angry easily
• Your performance at work is suffering, your relationships are strained
• You're exhausted, but still not sleeping well at night
You may be suffering from sleep apnea. You should consult a doctor, who can help you find a solution that works for you.
Watch these videos to learn more:
Articles about Sleep Apnea
Sleep apnea therapy solutions
Discover our lightweight and comfortable CPAP therapy masks to help you sleep comfortably and feel rested in the morning.
See our masks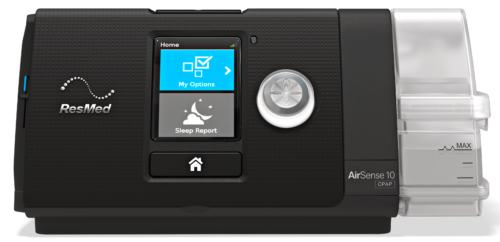 Designed to be quiet, discreet and easy to use, CPAP therapy machines designed to help you to breathe naturally through the night.
See our machines
Small, quiet and designed for freedom, the AirFit F30 mask delivers full-face functionality in an ultra-compact format.
Discover AirFit™ F30
We're here for you
Sleep apnea can result in serious long-term health consequences. But you're not alone. ResMed is committed to working with you and your health care provider to find sleep apnea solutions that work for you. We offer a range of innovative and effective sleep therapy masks and machines that are whisper-quiet and designed with your comfort in mind. Break out of the vicious cycle of poor sleep, and return to a more restful and happy life. We'll be with you every step of the way.
Questions or comments?
Reach out today. We'll respond within 48 hours.