Traveling with your therapy equipment
Can I go and take my therapy equipment
on my vacation?
Traveling is now made easier, thanks to ResMed's device technology.
Designed to be lightweight and highly portable, ResMed's therapy devices and masks will prove to be an easy travel companion, wherever you go.  Most ResMed devices can be used all over the world, in the great outdoors and even on an airplane. This makes traveling with your therapy equipment relaxed, comfortable and easy. Just the way it should be!
Fits your outdoor lifestyle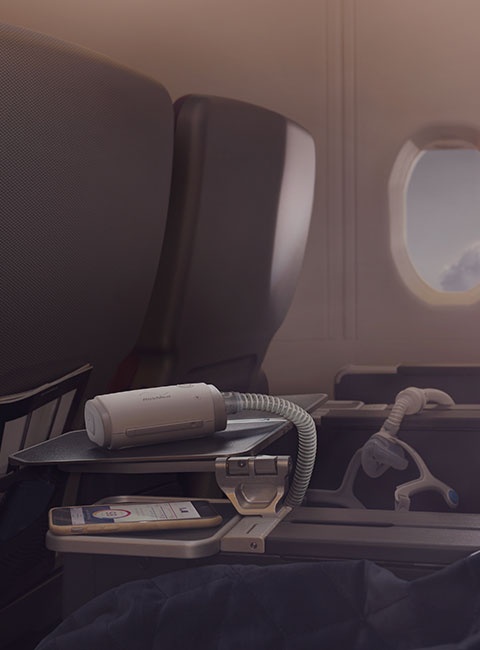 Now you can continue to enjoy the outdoors even with your ResMed device.
We offer converters for our wide range of products. These converters allow you to use your device from a 12V or 24V DC power source in a car, boat or any other vehicle that has a suitable battery.
Most of our devices operate with an external battery source. In addition, Astral devices have their own external battery solution, offering even more flexibility. So you now have the freedom to go out more without interrupting your therapy.
Perfect for air travel
Now there's no reason why your treatment should keep you from flying and getting a good night's sleep!
Thanks to the portability and convenience of ResMed's sleep therapy equipment, the sky is the limit when you want to see more of the world.
Prepare to go on holidays
If you're camping, or going on a road trip, or even traveling overseas, our video will give you information about traveling & using ResMed's machines while you're away.
Before traveling with your therapy equipment, you should:
At least two weeks prior to traveling, get clearance from the airline to use your device on a flight (if your approval is in the form of a letter, carry a copy with you).
Arrange to sit near a power source on the aircraft. In case of no power source, the RPS II, our lightweight and portable power station, is ideal for air travel.
Confirm the type of power cord or adapter used by the aircraft
Carry a letter from your doctor certifying your need for positive airway pressure therapy.
Take a copy of ResMed's statement of FAA compliance letter (in English) for ResMed devices
Pack the correct adapter for the country you're traveling to because power outlets differ in each country. Adaptors can be bought from most electronics and travel stores, as well as in airports.
Ensure that there is no water in the humidifier tub before detaching it from the device and packing it away.
Most ResMed devices can automatically adjust for changes in altitude and run on virtually any power supply in the world, with a suitable adapter.
Remember, you can use your device on the plane, but not your humidifier, as aircraft turbulence increases the risk of water spillage and damage to the device.
Your Hotel room may not have a power socket located near the bed head, so pack an extension cord to use your device and mask, comfortably.
The following information should always be within reach:
Your treatment pressure
Your mask type and size
Contact details for your equipment supplier and care provider
Your health insurance information
Your doctor's details
A copy of the ResMed positive airway pressure device travel letter for assistance in carrying the device through security and on the aircraft
Most of these instructions apply to ventilators as well, but you should always check with your care provider for specific instructions and considerations.
Travel with sleep apnoea FAQs