Sleep apnea treatment
As we've learned, the symptoms and risks of sleep apnea are associated with other serious conditions.1-3 Fortunately, effective sleep apnea treatment has never been easier to find.
Why seek sleep apnea treatment?
If you've been diagnosed with sleep apnea – or think you may have it – why should you seek treatment? To begin with, effective sleep apnea treatment will reduce and potentially eliminate the negative effects of the condition, such as snoring, drowsiness, lack of energy and impaired driving. Most sleep apnea patients who successfully undergo treatment experience increased energy4 and a healthier mental attitude – not to mention the satisfaction of consistently getting a good night's rest.
There are more incentives to seek sleep apnea treatment. Effective therapy can also help alleviate other conditions often associated with sleep apnea – such as heart disease,1 diabetes2 and obesity3 and even help prevent these conditions from developing. Simply put, effective sleep apnea treatment can reduce your health risks, improve your daily energy levels and help you feel more like yourself again. By continuing your sleep apnea treatment regularly, you are making an important decision to take control of your health, your well-being and your life.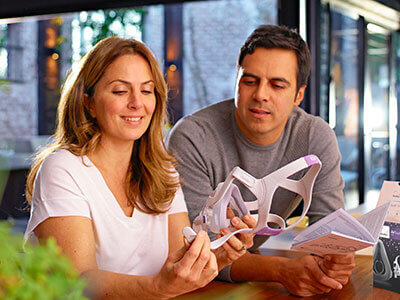 ResMed helps you to understand the best and appropriate CSA treatment options available. These include three forms of PAP therapy: CPAP, bilevel and ASV.
Travelling with sleep apnoea therapy? Here's an overview of the basic steps to follow to ensure that your travel plans don't interrupt your sleep apnoea treatment.
References:
1. Oldenburg et al.Sleep-disordered breathing in patients with symptomatic heart failure: a contemporary study of prevalence in and characteristics of 700 patients. Eur J Heart Fail 2007;9:251-257.
2. Einhorn et al.Prevalence of sleep apnea in population of adults with type 2 diabetes mellitus. Endocr Pract 2007;13:355-362.
3. Valencia-Flores M, Orea A, Castano VA, Resendiz M, Rosales M, Rebollar V, Santiago V, Gallegos J, Campos RM, Gonzalez J, Oseguera J, Garcia-Ramos G, Bliwise DL.Prevalence of sleep apnea and electrocardiographic disturbances in morbidly obese patients. Obesity Research 2000;8(3):262-9.
4. Tomfohr LM, Ancoli-Israel S, et al. Effects of continuous positive airway pressure on fatigue and sleepiness in patients with obstructive sleep apnea: data from a randomized controlled trial. Sleep. 2011 Jan 1;34(1):121-6.