Let's work together to treat sleep apnea
Sleep apnea can have serious long-term health consequences for your patients. ResMed is committed to partnering with you to find solutions that support your patients' unique needs. We offer a range of innovative and effective sleep therapy solutions
Sleep apnea is a harmful respiratory condition that affects 1 in 4 men and 1 in 9 women*. Are your patients suffering?
ResMed can help you:
Recognize the symptoms of sleep apnea
Stay up to date on the latest research
Learn about our revolutionary innovative sleep therapy system that is transforming lives
Support your patients as they return to healthy sleep and happy lives
Find out how ResMed helps you  manage your patients' sleep apnea.
Articles about Sleep Apnea
Our sleep apnea solutions
Our latest CPAP therapy masks combine lightweight comfort with a minimalist design for good fit and seal.
See our masks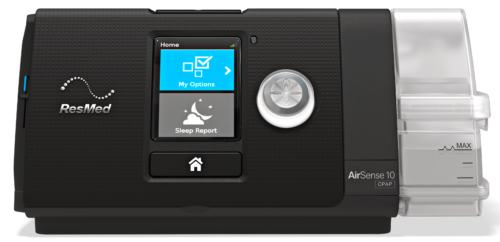 Our CPAP machines are designed to deliver a natural breathing experience for ease of use and compliance.
See our machines
ResMed's comprehensive diagnostic solutions empower sleep labs to use home sleep testing to help screen more patients and compatible software to efficiently manage each step of the diagnostic process.
Diagnostic range of products
Questions or comments?
Reach out today. We'll respond within 48 hours.
* Peppard PE et al. Increased prevalence of sleep-disordered breathing in adults. Am J Epidemiol 2013;177(9):1006–14.