Looking for ResMed warranty information on your mask, CPAP device or other ResMed products? See below for details or contact our customer service team if you have ResMed warranty questions.
Limited warranty
ResMed Ltd (hereafter 'ResMed') warrants that your ResMed product shall be free from defects in material and workmanship from the date of purchase for the period specified below.
*The warranty period may vary for accessories.
** • During the warranty period, ResMed will repair or replace (at the absolute discretion of ResMed) any covered Narval appliance and accessory with a defect in materials and workmanship, subject to the terms, conditions and exclusions of its warranty.
• Warranty repair work may only be performed by a ResMed facility or a ResMed authorized partner.
• ResMed shall not be liable under this warranty for any change of colour that might happen over time or any damage that may be caused by pets or any consequential loss resulting from any defect.
• The warranty period is 24 months from the date of manufacture for Narval appliances and 12 months for any accessories provided with an appliance.
• For the warranty to be honored, both splints with connecting rods, plaster models and bite registrations must be returned to ResMed.
• This warranty shall be void if:
– the Narval appliance or accessory was modified by a non-accredited ResMed technician or other third party,
– the Narval appliance or accessory was not used in accordance with the Instructions for Use, and/or,
– you had dental restorative work or dental modifications during the warranty period."
This warranty is not transferable. If the product fails under conditions of normal use, ResMed will repair or replace, at its option, the defective product or any of its components.
This Limited Warranty does not cover: a) any damage caused as a result of improper use, abuse, modification or alteration of the product; b) repairs carried out by any service organisation that has not been expressly authorized by ResMed to perform such repairs; and c) any damage or contamination due to cigarette, pipe, cigar or other smoke; and d) any other device and any masks or accessories.
Warranty is void on product sold, or resold, outside the region of original purchase. Warranty claims on defective product must be made by the initial consumer at the point of purchase. This warranty replaces all other expressed or implied warranties, including any implied warranty of merchantability or fitness for a particular purpose. Some regions or states do not allow limitations on how long an implied warranty lasts, so the above limitation may not apply to you.
Maintaining and caring for your therapy equipment is essential so that you can get the most out of your treatment.
Looking for ResMed warranty information on your mask, CPAP device or other ResMed product? Find the answers to your ResMed warranty questions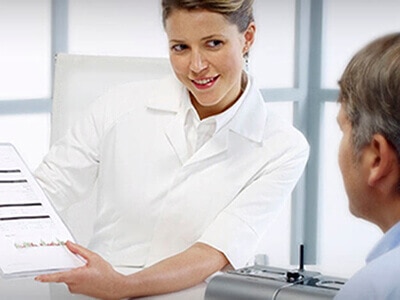 With your therapy underway and equipment set up, the one last and important step of this journey is following up on your treatment. Here's what you need to know.