Delivering NIV … the lighter way.
Quattro Air NV is ResMed's lightest non-vented full face mask. It has been created to deliver high quality treatment in an easy-to-use design – perfect for busy healthcare environments and patients on long-term, noninvasive ventilation (NIV).
It's comfortable, efficient and simple to use. It also works with a range of ventilators and can be adjusted to fit most patients—meeting a variety of needs in both the hospital and the home.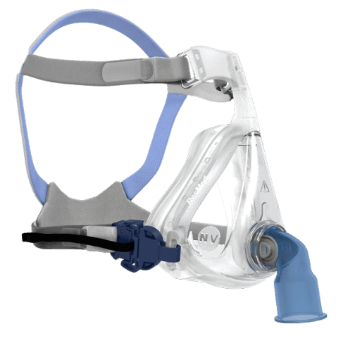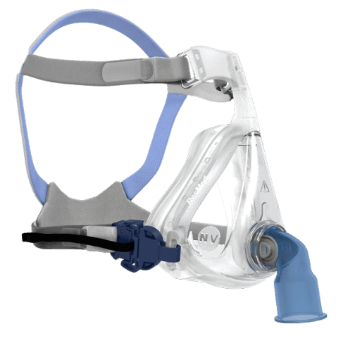 Key Features
Efficiency. Its Spring AirTM cushion has been designed to provide an even, stable seal to help make initiating NIV easy and effective.
Comfort. The SoftEdgeTM headgear is gentle on the skin and features premium rolled-edge fabric. Plus its lightweight design helps make it comfortable for long-term use.
Simplicity. Quattro Air NV has just five parts, so it can be assembled and disassembled in minimal time. Its simplicity also makes it easy to clean and prepare for multi-patient use.
Peace of mind. The quick-release clip with cord ensures fast and easy removal in an emergency, while the quick-release elbow can be easily detached from the mask.
Support page
Do you have questions about fitting, cleaning or other mask-related topics? Find the answers to these questions and more in our support library.
Please refer to the user guides for relevant information related to any warnings and precautions to be considered before and during use of the products.