The Quattro™ Air for Her from ResMed is the female-friendly version of the lightest full face mask on the market today.1 The Quattro Air for Her is built upon the proven performance and reliability of our Mirage Quattro™, but it's significantly lighter, more comfortable mask and easy to use, with a style and fit range designed specially for women.
Key features
Comfortable. Patented dual-wall cushion with Spring Air™ technology plus an enhanced design at the nasal bridge delivers better comfort, promoting patient compliance.
Patient friendly. The Quattro Air for Her is specially designed with the female patient's personal style and comfort in mind.
Simple to use. Only four parts means cleaning and assembly is a breeze.
Quiet. Advanced circular diffused vents quietly direct air away from patients and their bed partner.
Effective. The innovative flex-wing forehead support feels light on the patient's face while providing the right amount of stability and adjustment for a dependable seal.
Support page
Do you have questions about fitting, cleaning or other mask-related topics? Find the answers to these questions and more in our support library.
A small and quiet CPAP mask that's designed to be comfortable and easy to use
Read more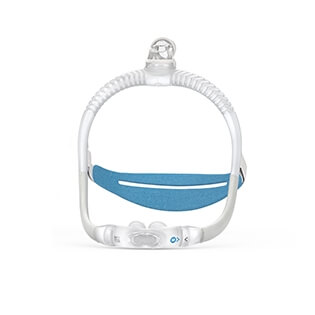 AirFit P30i is an ultra-compact tube-up mask with nasal pillows and a QuietAir vent. This quiet and stable CPAP mask permits to sleep comfortably in any position.
Read more
Please refer to the user guides for relevant information related to any warnings and precautions to be considered before and during use of the products.