Designed for women, the Mirage™ FX for Her nasal mask features a smaller fit range with pink styling and hair management options.
Offering the perfect balance of sophisticated design and easy functionality, the Mirage FX for Her weighs just 65 grams and is comprised of only four parts, making it intuitive, quick to set up and simple for patients to clean and reassemble.
Key features
Soft. The Mirage FX for Her's SoftEdge™ headgear is flexible and breathable, improving comfort and support. Featuring soft, contoured edges, it's designed to be kind to the face.
Stable. The frame is slender and lightweight, but still gives patients a secure, stable fit.
Flexible. The flex-wing forehead support allows for a dynamic fit without contacting the patient's skin.
Convenient. The quick-release elbow allows patients to detach the mask from the device without having to remove their mask, allowing them to get out of bed when needed and then easily reconnect to the device when they return.
Support page
Do you have questions about fitting, cleaning or other mask-related topics? Find the answers to these questions and more in our support library.
A small and quiet CPAP mask that's designed to be comfortable and easy to use
Read more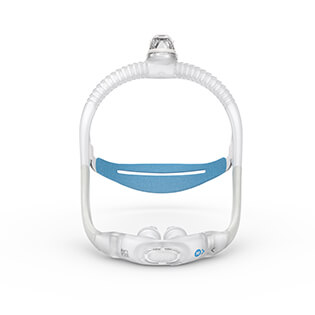 AirFit P30i is an ultra-compact tube-up mask with nasal pillows and a QuietAir vent. This quiet and stable CPAP mask permits to sleep comfortably in any position.
Read more
Please refer to the user guides for relevant information related to any warnings and precautions to be considered before and during use of the products.