Full face mask
AirTouch™ F20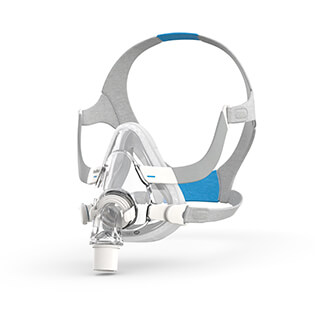 ResMed UltraSoft™ memory foam cushion for superior comfort
Comfortable and flexible frame designed to support the widest range of facial types
Easy to use magnetic clips* for quick fitting
Clear field of vision for reading or watching TV
Modular, so interchangeable with AirFit™ F20 frame & headgear
A redefinition of comfort
Unique to ResMed's AirTouch F20, our new UltraSoft memory foam cushion adapts to your patients' facial profile. This, for a light and gentle experience of sleep therapy.
Foam has unique properties that provide less friction and contact pressure than a standard silicone cushion —even when it's sealed firmly against your patient's face. This reduces the likelihood of red facial marks.
98% of patients achieved a comfortable static seal on AirTouch F201
A gradual but uncompromising seal.
The light and supple foam cushion gradually adapts to a patient's face to seal securely and prevent leaks during therapy. And because foam is permeable, it allows a very small amount of air to pass through the cushion – providing a more natural sleeping experience without compromising therapy.
Freedom of choice
AirTouch F20 is made with interchangeable components that allow you to easily mix and match them with AirFit F20 mask. AirTouch F20 cushions are also compatible with AirFit F20 for Her masks, so female patients can enjoy the comfort of UltraSoft foam alongside the outstanding fit of a female-specific mask.
With this wider set of options, you're bound to find a solution that maximises your patients' comfort, therapy compliance and success
Compatible with AirMini
AirTouch F20 is compatible with AirMini™, the world's smallest* travel PAP machine.
* As of 04, April 2017. 136 mm (W) x 84 mm (H) x 52 mm (D), 250 cm³.
Our quietest mask ever
ResMed AirTouch™ F20 comes with the QuietAir™ diffuser vent, making it our quietest mask ever.
QuietAir minimises noise and gently disperses air, so patients can enjoy a more peaceful environment and sleep closer to their partners. When more patients are sleeping comfortably, you can see improved patient satisfaction and compliance.
Please refer to the user guides for relevant information related to any warnings and precautions to be considered before and during use of the products.
*Use of masks with magnetic components is contraindicated in patients with the following pre-existing conditions: a metallic haemostatic clip implanted in the head to repair an aneurysm and/or metallic splinters in one or both eyes.