Nasal pillows mask
AirFit™ P30i
Top-of-the-head tube design makes it easy to sleep in any position
Self-adjusting SpringFit frame adapts for a stable, reliable fit1, 2
QuietAir vent gently diffuses exhaled air
Modularity simplifies stock management and offers patients more choice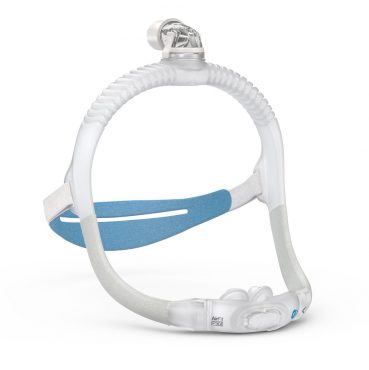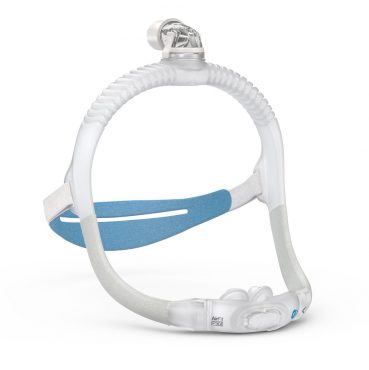 Retain pillows, regain freedom
ResMed AirFit P30i is our tube-up mask for patients who prefer pillows. It's designed to feel natural and gives patients the freedom to move easily and sleep in any position. The snugly fitting SpringFit frame, carefully engineered nasal pillows cushions and top-of-the-head tube design deliver reliable stability and keep pace with every twist and turn. If your patient gets up during the night, a quick-release elbow keeps life simple.
Quiet nights with QuietAir
A QuietAir vent is integrated into the AirFit P30i's nasal pillows cushion. This vent gently diffuses exhaled air, limiting noise and drafts and helping to create a restful bedtime environment.1
Give your patients the choice
The modular design of the AirFit P30i means you can do more with less. The P30i uses the same comfortable frame1, 2 and headgear as the AirFit N30i so it takes a couple of clicks to switch between nasal cradle and pillows cushions.3
This mix-and-match system makes it quick and simple to offer your patients more freedom of choice.
It's convenient when you need to alter the mask seal or change contact points. And it simplifies stock management. Just like the AirFit N30i, the AirFit P30i is quick to fit1, 2 and comes in two handy starter packs containing a frame, headgear and two cushions.
Please refer to the user guides for relevant information related to any warnings and precautions to be considered before and during use of the products.
References
ResMed external 14-day clinical study of 23 ResMed patients, conducted between 30/05/2018 – 22/06/2018. Data on file; ID A4387859.
ResMed external 7-day clinical study of 24 ResMed and non-ResMed patients, conducted between 21/02/2018 – 12/03/2018. Data on file; ID A4320645.
AirFit P30i user guide, ResMed Ltd 2018. ID A4461185.