AirFit™ N20 for Her
Nasal mask
Innovative InfinitySeal silicone cushion designed to fit everyone, tolerate misfitting and accommodate patient movement
Plush padded frame provides  comfort throughout the night
Easy to use magnetic clips* for quick fitting
Clear field of vision for patients who read or watch TV in bed
Women's for Her variant available for more tailored therapy
Universal seal performance
An international study found that our nasal InfinitySeal silicone cushion fit 99.4% of all patients tested1. This means that you can be confident that your patients have a mask that will fit and perform.
With its innovative design, the AirFit N20 has been finished and shaped to adapt to the unique facial contours of each of your patients, offering a robust seal regardless of face shape or size.
Discover the new cushion's geometry here.
Patient tested and preferred
92% of patients said they preferred wearing the AirFit N20 over the current market-leading Nasal mask.2
Within individual categories of the survey, the AirFit N20 also achieved a preference of 88% for ease of use, 88% for comfort and 83% for seal2, demonstrating that our technologies work to improve patient experiences.
Our AirFit 20 series for Her range
Dedicated purely to women, this range was specifically designed to give every woman a more personalised mask that better meets her unique facial features and adapts to the way she sleeps.
The 20 & 30 series of mask – interactive brochure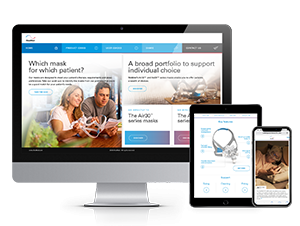 Interested in the bigger picture? Check out our 20 & 30 series interactive brochure.
Please refer to the user guides for relevant information related to any warnings and precautions to be considered before and during use of the products.
*Use of masks with magnetic components is contraindicated in patients with the following pre-existing conditions: a metallic haemostatic clip implanted in the head to repair an aneurysm and/or metallic splinters in one or both eyes.
ResMed AirFit N20 internal global fitting study of 159 existing ResMed patients, conducted 12/11/2015; ID A3768073.
ResMed internal study of 24 existing ResMed patients, conducted between 23/11/2015 – 21/12/2015 comparing the market leading mask with AirFit N20; ID A3768073.