Ultra Mirage™ NV
Nasal mask
The Ultra Mirage™ NV nasal mask offers a comfortable, stable and highly effective way to receive your ventilation therapy. It is ideal if you are a long-term ventilation patient who is being treated for acute or chronic respiratory distress or failure.
The Ultra Mirage NV nasal mask provides comfort and peace of mind during your treatment.
Please note that this mask is not suitable if you are receiving positive airway pressure therapy. The Ultra Mirage NV nasal mask is specifically designed for ventilators with an active exhalation valve.
Key features
We designed the Ultra Mirage NV nasal mask with your comfort in mind. The dual-wall cushion combines a secure seal with gentle comfort and we've also worked to minimise the amount of moisture that gets trapped between the skin and the headgear.
The reliable Ultra Mirage NV nasal mask has a superior seal and offers excellent stability, giving you greater peace of mind during your ventilation treatment.
The Ultra Mirage NV nasal mask is hypoallergenic and is made of durable materials for an extended mask life.
Support page
Are you having troubles with your mask? Do you have questions about fitting, cleaning or other mask-related topics? Find the answers to these questions and more in our patient support library.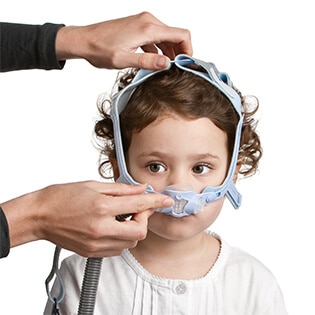 The Pixi paediatric mask offers comfort and safety features that give parents and caregivers peace of mind.
See detail
Representing the effective technology in sleep apnoea treatment, the AirFit P10 retains the performance and reliability of the popular Swift™ FX mask series, but it's even quieter and lighter. A clinical study found that patients using the AirFit P10 sleep more than 40 minutes longer per night.
See detail
With super-soft fit and a minimal appearance, the Swift FX makes it easy to forget about the mask and remember what it's like to get a great night's sleep.
See detail