AirTouch™ N20
A soft nasal mask for therapy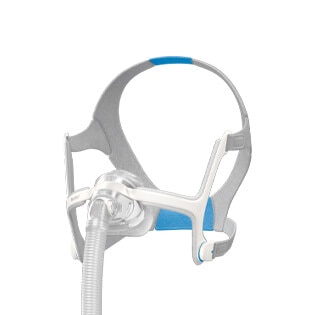 The AirTouch N20 nasal mask features a soft memory foam cushion that is designed to be comfortable and limit red marks around the nose1. Compatible with the AirFit N20 mask2, you can use both cushions in the same mask frame
A comfortable memory foam cushion
Designed to limit red marks1 around the nose, the AirTouch N20 memory foam cushion can adapt to your individual facial features. If you are looking for a full face mask featuring the memory foam cushion, visit the AirTouch F20 full mask product page.
Mix and match with the AirFit N20
The AirTouch N20 memory foam cushion and the AirFit N20 silicone cushion are interchangeable, allowing you to swap between the two as you like.2 Each size of cushion easily clicks into the same mask frame.
References:
ResMed external clinical study of 26 patients for 7 nights, conducted between 15/03/2018 and 05/04/2018. Data on file; ID A4575326.
AirTouch N20 user guide, ResMed Pty Ltd 2019. ID A4670547.