AirFit™ F30i
Full face mask for therapy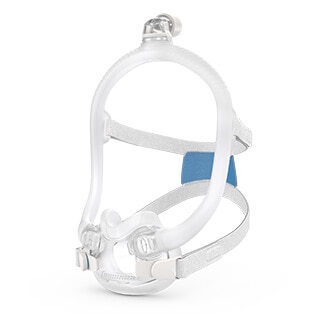 The AirFit F30i is a tube-up full face mask featuring a comfortable under-the-nose cushion. You can sleep in the position you want1 and say goodbye to red marks on your nasal bridge. AirFit F30i is part of the AirFit 30 series range of under-the-nose masks.
Sleep how you choose
With the AirFit F30i full face mask, it's easy to sleep in any position you choose.1 When you sleep on your front, you'll appreciate the clutter-free design with no front-end tube connection.
Easy-to-use features
The AirFit F30i mask features magnetic clips2 and a quick-release elbow to make life easy. Taking the mask on and off is quick1, convenient and intuitive, with magnetic clips that guide the headgear to the frame swiftly.
Nothing over your nose
The F30i's ultra-compact cushion sits comfortably under your nose, not over it.1 Less facial contact looks good, feels good and means you can say goodbye to red marks and pressure on the bridge of your nose.
References:
ResMed external clinical study of 51 current full face mask users, conducted between 24/10/2018 – 20/11/2018, 2018 data on file; ID A4484728.
Use of masks with magnetic components is contraindicated in patients with the following pre-existing conditions: a metallic haemostatic clip implanted in the head to repair an aneurysm and/or metallic splinters in one or both eyes.