AirTouch™ F20
ResMed's softest mask ever
Full-face mask with an UltraSoft™ memory foam cushion for comfort. The AirTouch F20's unique UltraSoft cushion adapts to your face to provide a good seal1 while reducing friction and contact pressure. The mask is easy to fit and use.
The mask contains magnets that may interfere with certain implants or medical devices. Please refer to the user guide for complete information, including magnet contraindications and warning.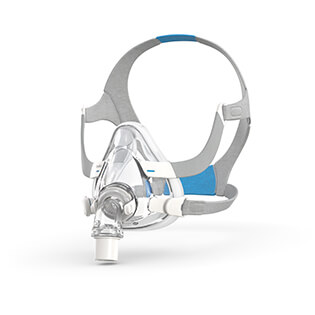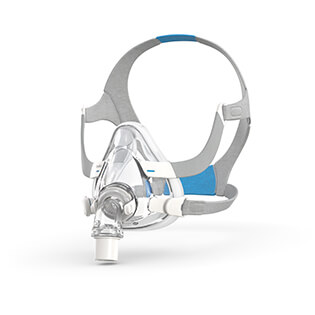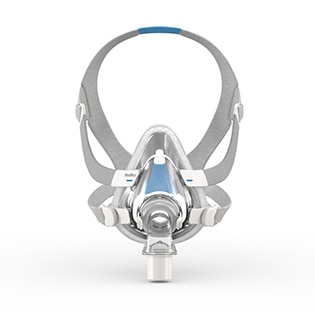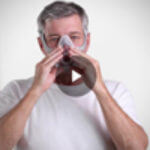 Superior comfort and uncompromising seal
Unique to ResMed's AirTouch F20, our new UltraSoft memory foam cushion adapts to your facial profile, seals naturally and prevents leaks for a light and gentle experience of sleep therapy. Foam has unique properties that provide less friction and contact pressure than a standard silicone cushion, even when it's sealed firmly against your face. This reduces the likelihood of red facial marks. And because foam is permeable, it allows a very small amount of air to pass through your cushion – providing a more natural sleeping experience without compromising your therapy.
Easy to care for
Thanks to a regularly replaceable cushion, the AirTouch 20 series helps you refresh your experience of sleep therapy and allows for a simpler, smoother cleaning process. No more mask cleaning when you wake up each morning – a simple wipe down with a CPAP wipe is all that's needed!
Freedom of choice
AirTouch F20 is made with interchangeable components that allow you to easily mix and match them with AirFit F20 mask. AirTouch F20 cushions are also compatible with AirFit F20 for Her masks, so female patients can enjoy the comfort of Ultra-Soft foam alongside the outstanding fit of a female-specific mask.
A wider set of options makes it easier to find a solution that maximises comfort, therapy compliance and success.
Compatible with AirMini
AirTouch F20 is compatible with AirMini, the world's smallest* travel PAP machine.
* As of 04, April 2017. 136 mm (W) x 84 mm (H) x 52 mm (D), 250 cm³.
Relax in quiet comfort
Featuring the revolutionary QuietAir diffuser vent, ResMed AirTouch F20 is our quietest mask ever. With QuietAir, noise is minimised and airflow is so soft you might not feel it at all. You can simply enjoy a more peaceful night's sleep and the freedom to sleep closer and more naturally with your partner.
Shop online
Need new equipment, accessories or spare parts? It's quick and convenient to shop on the ResMed online store from anywhere, at any time. Register for our membership programme and you'll also receive information on our latest products and promotions.
Please refer to the user guides for relevant information related to any warnings and precautions to be considered before and during use of the products.
Contraindication
Masks with magnetic components are contraindicated for use by patients where they, or anyone in close physical contact while using the mask, have the following:
Active medical implants that interact with magnets (i.e., pacemakers, implantable cardioverter defibrillators (ICD), neurostimulators, cerebrospinal fluid (CSF) shunts, insulin/infusion pumps)
Metallic implants/objects containing ferromagnetic material (i.e., aneurysm clips/flow disruption devices, embolic coils, stents, valves, electrodes, implants to restore hearing or balance with implanted magnets, ocular implants, metallic splinters in the eye)
Warning
Keep the mask magnets at a safe distance of at least 6 inches (150 mm) away from implants or medical devices that may be adversely affected by magnetic interference. This warning applies to you or anyone in close physical contact with your mask. The magnets are in the frame and lower headgear clips, with a magnetic field strength of up to 400mT. When worn, they connect to secure the mask but may inadvertently detach while asleep. Implants/medical devices, including those listed within contraindications, may be adversely affected if they change function under external magnetic fields or contain ferromagnetic materials that attract/repel to magnetic fields (some metallic implants, e.g., contact lenses with metal, dental implants, metallic cranial plates, screws, burr hole covers, and bone substitute devices). Consult your physician and manufacturer of your implant / other medical device for information on the potential adverse effects of magnetic fields.
Reference:
1. ResMed external clinical study of 10 experienced patients for 7 nights, conducted between 29/08/2016 and 19/09/2016. Data on file; ID A3907045.
Content last updated: 10/2023.